Coach and minibus hire in Stanmore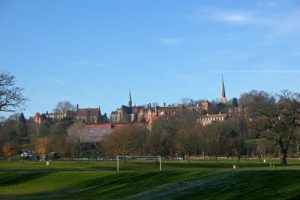 Although Stanmore is well served by the tube and bus services, sometimes your transportation needs may require a little more flexibility for certain events, such as group, club or company outings.
As a local resident, MET Coaches can provide you with quality, affordable transport to a range of destinations throughout the UK. Our fleet of luxury minibuses and coaches are equipped with comfortable seats (coaches have leather seats) and spacious aisles so your journey is as comfortable as possible.
Don't worry about getting bored on the trip to your destination; our executive coaches have audio-visual entertainment systems on-board to keep you occupied. They are also fully equipped with toilet and kitchen facilities..
How can MET Coaches help you?
Educational trips – There are many local primary and secondary schools in the Stanmore area, and MET Coaches is perfect for ferrying you to those epic class trips. Whether you're learning about the Battle of Hastings from the iconic seaside town or visiting one of the many museums in London, school trips have great enrichment benefits and can definitely enhance learning. Our drivers are also DBS-checked, making them suitable for work where children are involved.
Corporate events – Team social events, seasonal parties, team bonding and more, there's always a reason for a company to organise a fun social event every once in a while. Company outings are a great way to encourage bonding and work cohesion between colleagues. MET Coaches can provide transport to a range of locations across the UK so you don't have to worry about getting there, you can just focus on enjoying your event.
Family outings – MET Coaches is an economical choice for your next group outing. Whoever you're travelling with, you'll be able to rest easy knowing that everyone will get there together and on time, and you wouldn't have to worry about a member of your party getting lost or rushing for public transport.
Social clubs – Whether you belong to a sports club, a gardening club, or a book club, MET Coaches can be there to get you to your latest group event. Hire us to get you to your next big game or your upcoming exciting group excursion.
Thrilling trip ideas
Embrace the wilderness – Springfield Park in St. Albans is a great location for camping. Gather your family or a group of friends and spend a few nights under stars. Our coach drivers can get you and your tents to the campsite easily and efficiently. They can even be there to pick you up when you're ready to head back into civilisation.
Bright lights, big City – London has so much to offer, from hundreds of restaurants serving cuisines from across the globe to world-class theatre productions such as Jersey Boys and Lion King. Whatever you choose to do, the City never disappoints and MET Coaches can ensure that you arrive at your destination in comfort and style.
For the culture vultures – For those interested in history and culture, the UK boasts 31 UNESCO World Heritage Sites. Bath, Stonehenge and Studley Royal Park are just a few of the impressive sites that you can visit with your family and friends. Don't worry about the size of your group as we have almost two-dozen vehicles that can seat between 16 and 70 people comfortably.
Hire MET Coaches today
MET Coaches offer an affordable and luxurious service that aims to get you where you need to be, safely and efficiently. We can deal with your transportation needs, allowing you to focus on enjoying your day.
Our drivers will drive you to your chosen destination while you relax and enjoy the trip, before being there to pick you up at the end of the day. This exceptional personal care is what makes MET Coaches a cut above the rest!
Stanmore isn't the only area we provide luxury coach and minibus hire for. As we've mentioned before, MET Coaches covers many areas in and around North & West London and Hertfordshire including:
For additional information or a quote on our services, call MET Coaches on 01923 247765 today.