Executive Minibus Hire Throughout London and Hertfordshire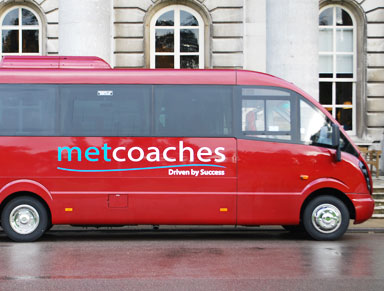 For an unparalleled minibus transport service, you can count on the team at MET.
Our fleet of comfortable minibuses range from 16 to 19 seats and have the latest vehicle safety features to make travelling with us a safe and comfortable experience.
We provide a high-quality, professional minibus hire service suitable for all functions including corporate events and hospitality trips, school trips, sporting events, airport transfers, weddings and private, special occasions.
Features of MET minibuses
Your comfort and safety are important to us, that's why all of our minibuses include:
AC and heating system
Secure seat belts
Reclining seats
Spacious aisles
Tinted windows
Some of our minibuses also have audio-visual entertainment to make your journey even more enjoyable.
Minibus hire for corporate events
Taking your clients to corporate events across London with our fleet of luxury minibuses is convenient and cost-effective, plus it also makes a great impression and helps to foster client relationships. For your overseas guests, our minibus drivers are happy to meet and greet your guests at the airport and take them to their accommodation right away.
Minibuses are also great for your team events. From team-building events to exhibitions, hiring a MET minibus means every team members can travel together to the event and arrive on time.
You can find out more about our corporate coach hire and airport transfer services here.
Minibus hire for school events
School trips are often exciting for students and teachers alike. It's a day outside of the usual school setting to learn in a fun and interactive environment. Make your school trips a success by hiring a minibus from MET because we understand the safety requirements and have years of solid experience working with schools across Hertfordshire and London.
With us taking your class to their destination, you can avoid the hustle and bustle of public transport where not everyone can get a seat. Our competent logistic team will plan the best route for your journey and our DBS-checked drivers will get you there on time. Of course, travelling with us also means that every student gets a seat and travel in comfort.
Minibus hire for private occasions
From hen parties to group trips to London, there are many reasons why you would benefit from hiring a minibus. Avoid booking multiple taxis, relying on public transport or choosing someone to be the designated driver. With us, everyone in your group will arrive happy, together and on time. Our friendly drivers will arrive early at an arranged pick-up point so your group can get to the event on time.
Why hire a MET minibus?
Your safety is our highest priority. Our vehicles are maintained to an exceptional standard and undergo stringent tests by our fully qualified in-house engineers and are serviced every six weeks. We credit our high MOT pass rates to the preventive maintenance system used by our in-house engineers, following the Department of Transport regulations.
All of our drivers have attained a Road Passenger Transport NVQ and regularly undertake extensive training to ensure they remain at the highest of standards. DBS-checked, professional and willing to go the extra mile, you'll be in capable hands with our team.
Take a look at our fleet of minibuses and fill in our quick quote form for an insight into our competitive prices. Alternatively, you can call us on 01923 247765.
For localised information, take a look at the areas where we provide service, including: