Coach and minibus hire for rugby events
Rely on MET Coaches to get you to the next rugby game.
Rugby is one of our nation's favourite sports. Rugby League and Rugby Union matches see fans and supporters turning up in droves to cheer on their favourite team. Off the pitch, pubs and restaurants galore for fans to socialise and celebrate. Make your rugby experience a breeze by hiring one of our minibuses or coaches to get to the matches and back.
Rugby in the UK
With England, Ireland, Scotland and Wales each having a national rugby union team, it comes as no surprise that the UK is home to numerous rugby stadiums. Some of the most popular stadiums include the Principality Stadium in Cardiff, Ravenhill Stadium in Belfast and, of course, Twickenham Stadium in London.
Affectionately known as 'Twickers', Twickenham Stadium is one of the largest stadiums in the world dedicated to the sport of rugby union and also the home of England rugby. Playing host to rugby union fixtures year-round, it is also the venue of choice for many international matches, including the Rugby World Cup matches in 1991, 1999 and 2015. The famous Varsity Match between rivals Oxford and Cambridge is also held here – has been since 1921.
Apart from Twickenham, London Stadium in Queen Elizabeth Olympic Park and Allianz Park in North London also host rugby matches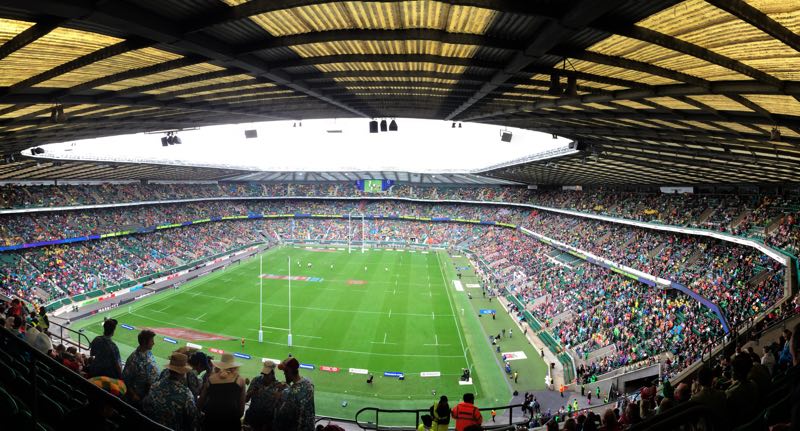 Getting to rugby matches with MET Coaches
Getting to stadiums for a rugby game is relatively straightforward if you're in the local area. However, if the group you're travelling with is coming in from a location farther away, the journey can become a challenge. While the stadium may be well-served by public transport, buses and trains are usually crowded on match days and are subject to frequent stops and delays, making the journey uncomfortable. Taxis are ideal for a comfortable ride, but groups are likely to get split up and may arrive at different times as each taxi driver may take a different route.
For a comfortable trip to a rugby game where everyone stays together and arrives on time, hire one of our luxury minibuses or coaches.
With MET Coaches providing transportation, you can be sure your group will arrive at the game on time and in comfort. Our fleet offers reclining seats, audio-visual entertainment units and enough space to stretch your legs while remaining seated. Best of all, you don't have to worry about parking – our driver will find the best parking spot and will wait in the same location for your return.
Minibus and coach transport for rugby teams
Our coaches and minibuses also cater to professional and amateur rugby teams across London. Our spacious vehicles, efficient drivers and smooth journeys have kept rugby players safe and relaxed to and from practices and matches. If you are a manager, you know the pressure of overloaded schedules first hand, so call 01923 247765 to hire one of our coaches or minibuses today.
With MET Coaches working alongside your team, your players can focus on winning the next match. Our drivers will meet your team at a pre-decided location and get them to the game together, in comfort and on time. Furthermore, everyone will get to have a relaxing journey home, a perfect way to end an action-packed game.
Coach and minibus hire for rugby-themed corporate events
Rugby is a popular and much-loved sport in the UK, widely considered as a 'universal language' that connects people from all walks of life. For this reason, rugby events are used by business organisations to show appreciation to employees and entertain valuable clients and business partners.
Treating employees to a rugby event
It's crucial for business managers to show staff that their hard work is appreciated, which is why it's common for managers to organise social events for the team. Showing employees that they're appreciated can encourage them to continue with the good work they're already doing. Furthermore, these social events can strengthen the bond between staff members, resulting in improved teamwork.
To make the social event a day to remember, treat staff to an upcoming rugby match. Tickets to rugby games are often well-received rewards as they offer experiences that, for some, only come once in a lifetime.
If you're a business manager organising a trip to a rugby game, consider hiring a MET minibus or coach to get your group to the stadium. Travelling with us means everyone will arrive at the stadium together and avoid the bustle of public transportation. Best of all, private transport offers the opportunity for your team to socialise and share highlights during the journey in a comfortable setting, rather than on public transport which is often crowded on match days.
Treat business partners and clients to rugby games
There are many benefits to providing corporate hospitality trips for business partners or clients. A well-planned and successful event can enhance existing relationships and encourage loyalty. For those trying to secure a business deal, an entertaining corporate hospitality event is an excellent way to make a good first impression.
If you're a business owner looking to thank your valuable clients or improve relationships, consider booking premium or corporate packages to a rugby game. These corporate packages are available at many rugby stadiums and come with perks such as complimentary drinks, VIP seating, excellent views of the pitch and more. To complement the corporate packages, book one of our luxury minibuses or coaches to get your guests to the stadium. With our corporate coach hire services, your guests will arrive at the stadium together and in comfort. Our luxury coaches and minibuses feature audio-visual entertainment, tinted windows for privacy and reclining seats, as well as tables and toilets on a select few.
Help your guests avoid the bustle of public transport or challenges of finding a parking space by booking a MET coach or minibus. With our corporate hospitality services, they will travel to and from the rugby match in comfort and style.
Airport transfer for rugby games abroad
Rugby is an international game and nations compete to be crowned champion. In Europe, the Six Nations Championships is an annual sporting extravaganza sending fans in England, France, Ireland, Italy, Scotland and Wales into a frenzy.
Rugby fans looking to travel abroad to support their favourite team should rely on MET Coaches' airport transfer services. We provide a luxury shuttle service to London Heathrow, London City, London Stansted, London Luton and London Gatwick airports. Our team will plan the best route to and from the airport of your choice. For outbound trips, we will get you there with more than enough time to check-in so you can avoid rushing through airport security.
For more information, head to our airport transfer services page.
Contact MET Coaches for minibus and coach transport to rugby matches
Whether you're heading to a stadium in the UK or a stadium abroad, travelling on a minibus or coach is likely the most reliable and comfortable way to get to a rugby game. Our minibuses and coaches are ideal for any type of trip, from away games for community teams to corporate hospitality trips.
Our luxury minibus hire and coach hire services are cost-efficient and reliable. Give us a call on 01923 247765 or complete our Quick Quote Form to hire a minibus or coach.
We want our coach transport to make your rugby day out a truly memorable one.