4 things you didn't know about the RWC
4 things you didn't know about the Rugby World Cup
As we finish the world cup, it's only right we share some interesting facts you probably didn't know about the world cup.
1. The first game of every world cup is started with the same whistle. It's almost 100 years old.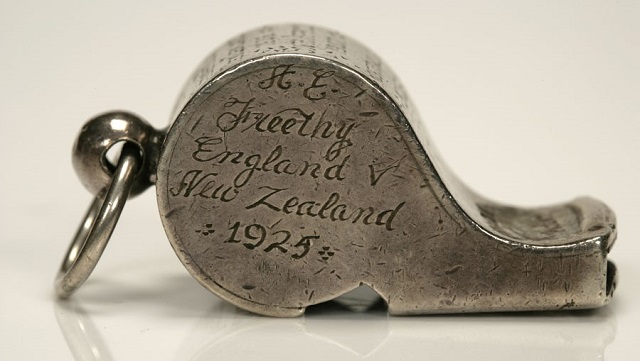 Being a coach hire company, our coaches do their fair share of travelling and having been around since 1996, we've got some history… But, not a patch on this whistle. The same whistle has been used to start every world cup since 1925. Meaning the whistle has been all around Europe, South America, North America, Africa & Asia. Quite some miles, eh? Of course, we'd much prefer one of our trusty Watford based coaches than this piece of metal. How else would you die hard rugby fans be ferried to and from the game?
2. Jonah Lomu s the youngest player to appear in a world cup final at 20 years 43 days old.
Jonah Lomu, undoubtedly one of the best rugby players of all time. At just 20 years, 43 days old he was the youngest player ever to appear in a world cup final. Yes, very impressive, we know. But, at 19 years old, MET has a fleet of 32 vehicles ranging from 16-57 seats and they could all move faster than the young Jonah Lomu. Who's the real winner here?
3. 2015 is the first tournament without a nation making their debut. It is the same 20 teams that competed in the 2003 world cup.
One of the more, well… mundane facts. We're not NASA, we can't be spurting out epic content every second of the day. We're coach hire company in Watford, would you give us a break? Had we wrote this post a few weeks earlier, we could speculate about England repeating their 2003 World Cup success with the same nations in competition. But, as we all know, we're out! Booooo! There's always 2019?
4.  No conversions were scored in a world cup final from 1999 to 2011.
An interesting one, many would assume Jonny Wilkinson converted in the 2003 final (the one we won, remember? Yeah aren't we just brilliant. Go England). He didn't, in fact the world cup went 12 years (3 world cups) without seeing a successful conversion in a world cup final.  In that time, our local club & a team we are proud sponsors of (Watford FC), were relegated from the premier league twice having spent the 2006-2007 season back in the top flight after qualifying for promotion through the playoffs.
We hope you enjoyed reading 4 things (we hope) you didn't know about the world cup and obvious patriotism, being a UK based company it's only right we (pretend to) support the boys in white.
P.S. I'm welsh – you definitely didn't know that.