9 best Christmas markets to attend with MET Coaches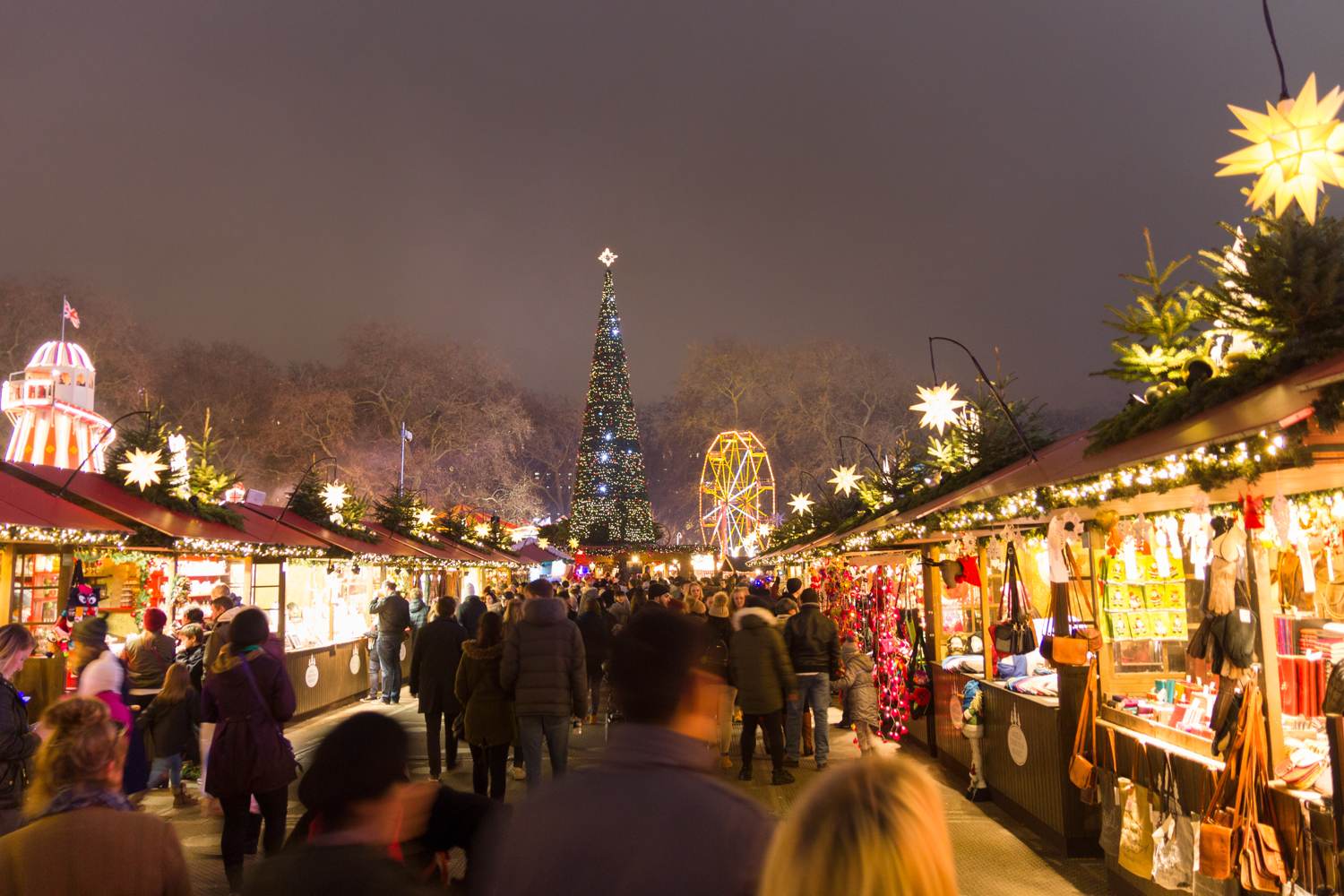 While the arrival of colder weather can be a bit of a downer, it also means the arrival of the festive season. With Christmas quickly approaching, many areas of England are opening their Christmas markets for the public to enjoy for free or a small fee. Whether it's for a family day out or a team social event, Christmas markets and fairs are perfect because of the relaxed and cheerful atmosphere. Furthermore, with MET Coaches as your transport, you know you'll get there together and on time.
With so many great options to choose from, it can be hard to decide which best fits your desires. Here's a list of 10 of our recommendations for Christmas markets this holiday season.
1. St. Albans Christmas Market (30 November- 22 December, Hertfordshire)
Just off the M1 and M25 is St. Albans Christmas Market in beautiful Verulamium Park. This year the Christmas market is being held in collaboration with Meraki Christmas Festival resulting in even more exciting activities. Between ice skating, a tipi-fire pit bar, an ice bar, and Santa's Grotto, there is sure to be something everyone in your group will enjoy. Finish off your trip with a delicious meal and shop at the market for unique gifts before heading home in one of our minibuses or coaches.
2. Redbourn Christmas Market (2 December, Hertfordshire)
Historic Redbourn Village (it's listed in William the Conqueror's 1086 Domesday Book) is host to the not-for-profit Redbourn Christmas Market, featuring local crafts, food and music. While it has all the "typical" makings of a Christmas market, it also features a Yule raffle for market-goers with prizes including afternoon tea, rounds of golf, spa treatments, and in 2017 it even featured tickets for a bread making experience. Further details of the market can be found on the official website.
3. Hoddesdon Loves Christmas (24 November, Hertfordshire)
Complete with an animal nativity scene, a visit from reindeer from Paradise Wildlife Park, and a Father Christmas Parade and fireworks to end the day, Hoddesdon Loves Christmas is the perfect event for those looking for a market that truly brings Christmas to life. Rides, shopping, and the tree lighting cap off this festive event that marks the beginning of the holiday season and make it a can't miss for your next team or family outing.
With Hoddesdon being just a 40-minute ride from our Watford home, we can easily get you to and from the above Christmas market on our minibuses or coaches that seat between 16 and 70 people. This ensures you have a relaxing ride home with your only worry being where you're going to put all of the gifts you've just purchased.
4. Oxford Christmas Market (7 December – 22 December, Oxford)
Arguably one of the most well-known Christmas markets, Oxford Christmas Market is back this year and is extending its stay by five days, meaning you and your group have even more time to go and experience the "truly magical" Christmas festivities. All 60 stalls promise of unique gifts, delicious food and a great bonding experience for your group from the likes of Georgie Porgie's Puddings, Indigo Flair, and Georg's Winterzauber.
Located on historic Broad Street near the Sheldonian Theatre and Oxford University's campus, the market's location and decorations add to the Christmas spirit. With coach parking on-site, our drivers will be more than happy to meet and transport you and your family or corporate clients to this Christmas wonderland.
5. Waddesdon Manor Christmas Fair and Carnival (Fair: 10 November- 16 December, Carnival: 10 November- 2 January, Buckinghamshire)
40 minutes down the road via the A41, this fair and carnival feature 86 exhibitors, homemade treats, a variety of drinks, a gorgeous backdrop of the light-covered Waddesdon Manor and 20-foot Christmas tree display. The fun continues inside the manor with tours of the light and ornament-clad hallways. Finally, the tunnel of light animations courtesy of the Guildhall School and light trails outside offer a night of unforgettable scenery. Upon the timely arrival in one of our coaches, a Waddesdon Manor staff member will come and greet your party and lead the way to the Manor before letting you experience the festivities.
6. Bedfordshire Christmas Fair (24 November, Bedfordshire)
This particular Christmas fair is run by the British Red Cross and serves as one of the many ways to get involved with the organisation. This year's fair will be housed in the Bedford School's Grand Hall with a £4 entrance fee if over the age of ten. Homemade mince pies and cakes can be enjoyed while watching the local choirs perform, or the chocolate making demonstrations, or while browsing the selection of vendors for some unusual gifts.
With our minibus and coach hire services, you won't have to worry about navigating public transport or following a map while driving. Just pick and date and time, and we'll get you to the Christmas fair together and on time.
7. Hyde Park Winter Wonderland (22 November- 6 January 2019, Central London)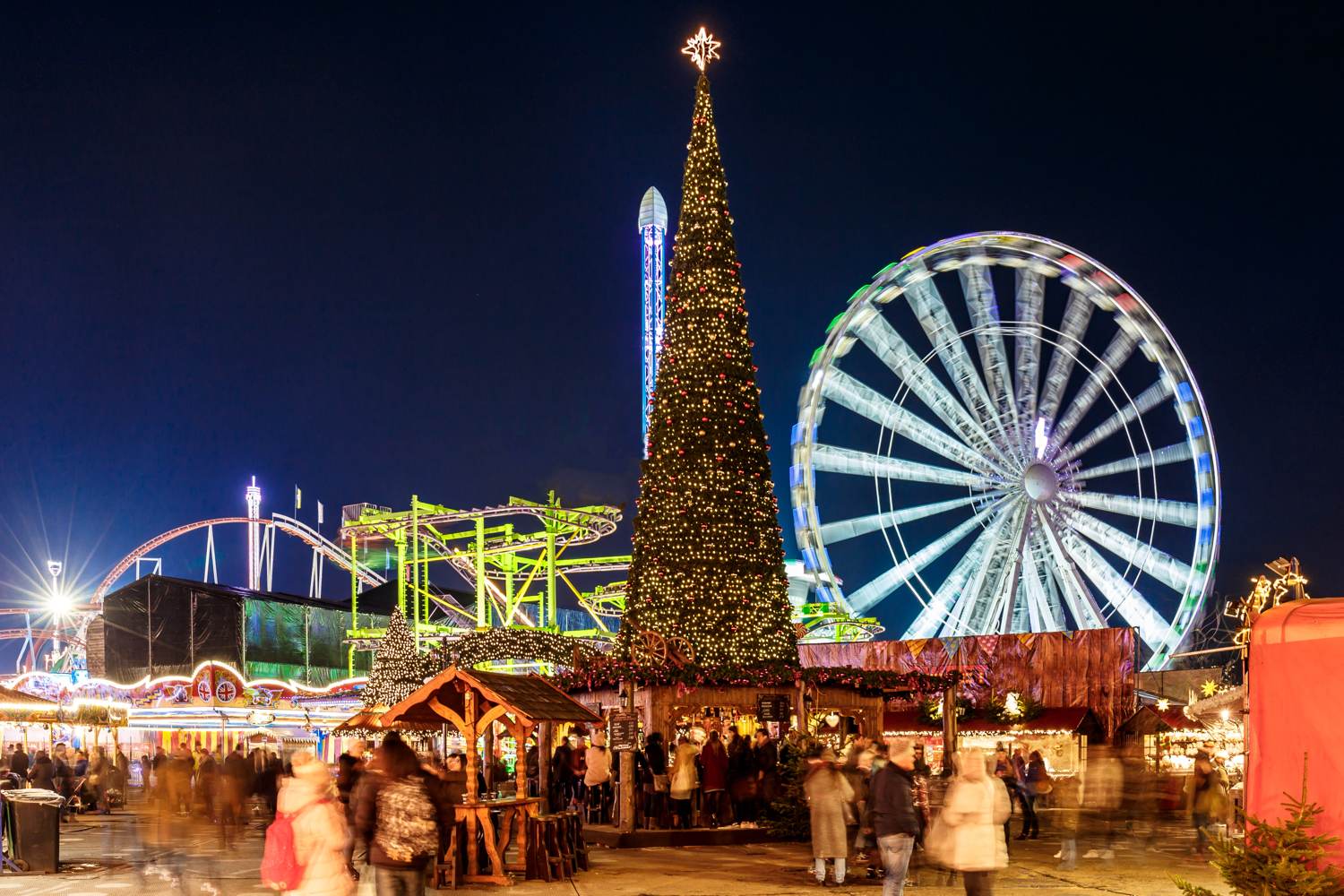 Winter Wonderland has something for everyone in your party, be it adults, children or corporate delegates. Between Peter Pan On Ice at the Winter Palace Theatre, The Secret Forest of ice and snow sculptures, and Bar Ice's cocktails and mocktails, everyone is sure to have a memorable time. The German Christmas Market also provides festive goods for purchase be it gifts or food and entry to the whole wonderland is free.
8. London Bridge Christmas By the River (29 November- 2 January 2019, Central London)
Much like Waddesdon Manor, Christmas By the River offers incomparable scenery to go with your shopping. With views of Tower Bridge and The Tower of London to accompany the German-style chalets offering an array of food, drink and gift shopping, this is a market that is hard to beat at this time of year. Free workshops are also available for patrons to participate in, so you can leave with some new knowledge, purchases and creations.
10. Winterville (15 November- 23 December, Clapham Common, South London)
This market/fair offer the complete winter and Christmas experience for all visitors. With mini-golf, an ice rink, the Solo Craft Fair and the Spiegeltent hosting shows and entertainment, the fun never stops in Clapham Common. The Backyard Cinema's Christmas Maze will also have a pop-up in Winterville offering showings of The Little Mermaid, Beauty and the Beast, The Nightmare Before Christmas, and Moulin Rouge! among others.
Hire a MET minibus or coach today
Our fleet of minibuses and coaches range from 16 to 70 seats and feature comfortable leather seats, AC and heating systems and more than enough leg room for the occasional stretch. Head to our fleet page to find out more.
Whatever Christmas market you decide to attend this holiday season, let us be part of your plan with our drivers getting you and your group to the destination together and on time. Call us on 01923 247765 today to discuss your transport options.
Book now for a chance to win a festive hamper!
This Christmas season, we're giving away a festive hamper to one lucky customer. To enter, book your MET Coaches minibus or coach before 20 December, and you'll automatically be entered to win. The winner will be picked on 21 December and notified via email.
If you liked this, you might also like: