London Craft Beer festival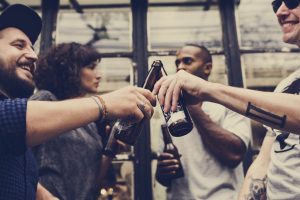 Nothing is more refreshing than drinking quality craft beer on a summer's day, surrounded by fellow craft beer lovers.
From 03 August to 05 August, Tobacco Dock will host the annual London Craft Beer Festival. If you're a fan of craft beer or eager to try craft beer for the first time, call MET Coaches – we can drive you to one of the most anticipated events in London this summer.
What to see and do
Stop by at the Vaults and breweries
The Vaults is the heart of the event, an area with selected group of breweries and programs relating to craft beer.
Over 80 breweries from around the world have gathered in London to give you a taste of their craft beer. Expose your taste buds to complex styles of brewing. MET Coaches is happy to drive you and your group straight to the venue.
Listen to great music
Like all great beer festivals, you can expect a great line-up of artists, bands, and DJs while you indulge in craft beers. Acts include Two-Door Cinema Club, Everything Everything, Huey Morgan and Trojan Sound System.
On the topic of music, if you choose the right vehicle, you will get to travel in a coach that has fantastic audio-visual entertainment. Play your track and get into the festival mood even before you reach the venue.
Eat delicious food
The London Craft Beer Festival will have some of the finest food from London's best restaurants and street food producers waiting to fill your bellies.
Get merry, have a jolly good time, because our driver will send you home safely while you get comfortable in our reclining leather seats.
Travel with MET Coaches
MET Coaches provides executive coach and minibus hire for all types of groups. Whether this is a fun day out with beer-loving friends or a corporate hospitality trip for potential clients/business partners, you won't go wrong with hiring MET Coaches as your event day transport.
Furthermore, there is no worry about appointing a reluctant designated driver or navigating the busy public transport. Hiring a minibus or coach means you and your group can all travel together. As the temperatures are set to climb, you will appreciate the air conditioning in all of our vehicles. MET Coaches is there for you to make the day easier and more enjoyable.
So raise a glass this summer! Make the most of the warm weather and summer events with MET Coaches as your transport.
To find out more about our minibus and coach hire services, call us on 01923 247765.