What was 2018 like for MET Coaches?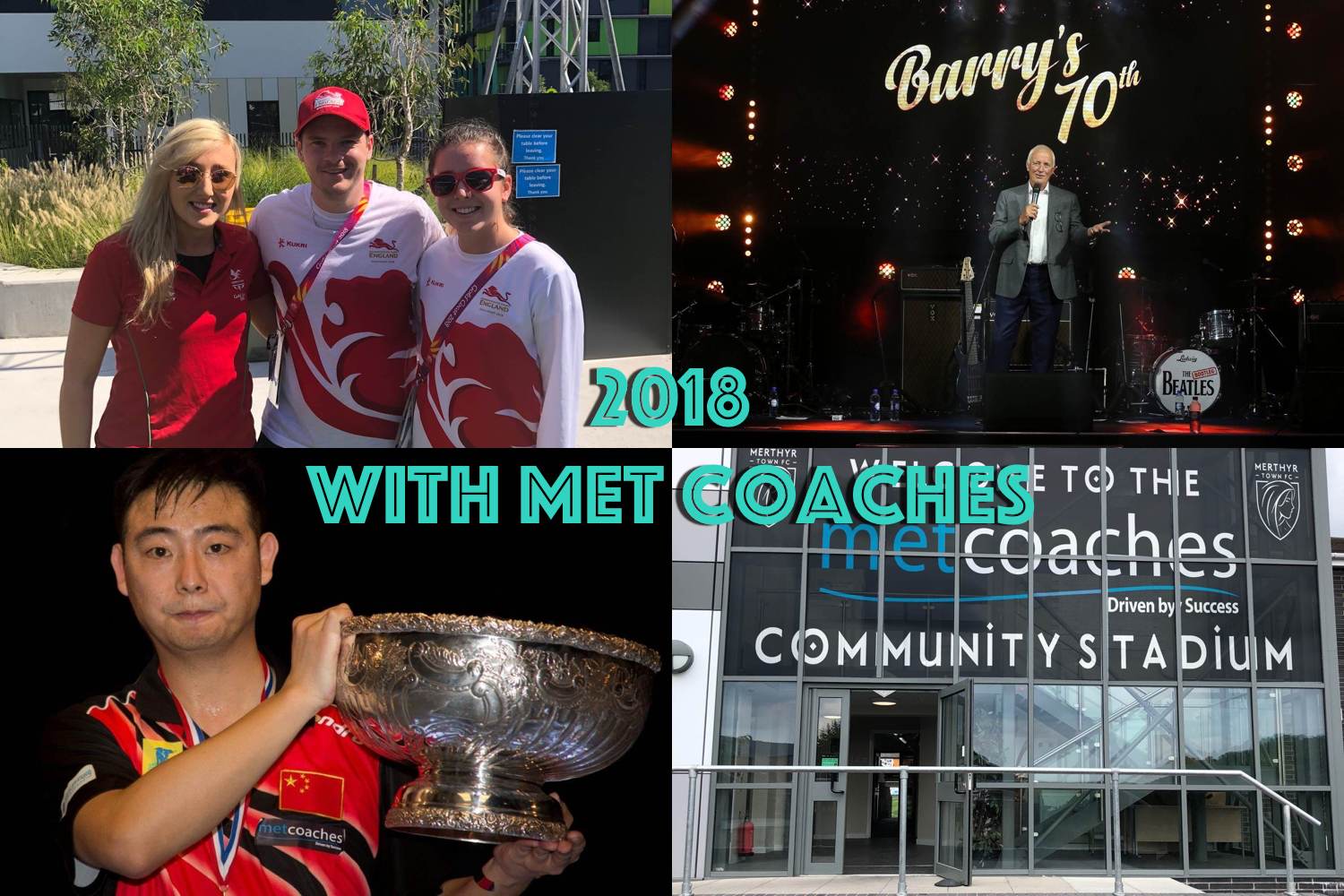 Christmas Day has passed, and as the year comes to an end, we believe it is important to reflect on all of the highlights and achievements in 2018 and explain what we can do for you in 2019.
MET Coaches' 2018 highlights
MET Ping Pong Championships at Ally Pally
Between 27 and 28 January 2018, Alexandra Palace in north London hosted the MET Coaches World Championships of Ping Pong, a thrilling event that was sponsored by us! Our congratulations go to the champion Wang Shibo who, along with his compatriot opponent Huang Jungang, gave the audience an exciting final match.
This is the second time we have sponsored the competition, and we hope to be part of more competitions like this in the future. Learn more about the event in our post 'The MET Coaches Ping Pong Championship'.
New coaches added to fleet
We're happy to say that we've had quite a few new additions to the MET Coaches fleet. The new vehicles include a minibus and two coaches, all of which include comfortable leather seats, an AC system, tinted windows and curtains for your privacy.
We also acquired a new coach for Saracens, a London-based rugby union team that we provide with executive coach transport. They currently play in Premiership Rugby and are at the top of the league table.
You can learn more about our new vehicles in our news post 'Welcoming the new members of the MET family'.
Prodigies in the Gold Coast 2018
MET Coaches sponsor many sportspersons like British artistic gymnast Brinn Bevan and British professional boxer Sam Eggington. Our MD Peter Evans is a major sports fan and believes in supporting young talent through sponsorships to help them achieve their dreams. That's why we were all ecstatic to hear that some of our sponsored athletes – Paul Drinkhall, Charlotte Carey and Denise Payet – got to compete in the Commonwealth Games 2018!
Find out more about their achievements in the Gold Coast here.
Barry Hearn's 70th birthday
Not many know that our MD Peter has a close relationship with Matchroom Sport founder Barry Hearn. Their relationship is so strong that Peter was invited to Barry's 70th birthday. We have worked with Matchroom Sport for the last three years and hope many more years will follow.
You can learn about our connection with Matchroom Sport and see a few pictures from the celebration here.
MET Coaches Community Stadium
In August, we became the new sponsor of Merthyr Town FC's new stadium which has been dubbed the MET Coaches Community Stadium. The Martyrs are one of our MD's favourite football teams, but they aren't the only team we support. We also support Barnet FC, Watford FC, Kings Langley FC, Wealdstone FC and Saracens through regular transport for the teams.
If you want to experience a sports match in person, whether it's football, rugby or horse racing, contact us for reliable minibus and coach hire transport. Our sports event coach hire services are perfect for group trips to matches around the country. We're also open to providing regular coach transport for sports teams.
Our service to you
Coach hire for corporate events and hospitality trips
From new year board meetings with partners to planning your next corporate hospitality event, there are many business considerations to be made for 2019. We're experienced in corporate minibus and coach hire transport and can be of great help to your upcoming business events. We also offer corporate event planning tips so you can ensure your conference, meeting or awards night is a success. For advice on corporate event planning, take a look at:
For those expecting guests from abroad, impress them by booking one of our minibuses or coaches to collect them from the airport. This simple gesture tells your clients that you considered their transport needs and will boost your brand image.
Airport transfer
In addition to reliable airport transfer services for corporate events, we also provide airport transport for your sports club, social club, family and friends. Whether it's a sports match abroad or a family summer getaway, our drivers will collect your group from an agreed pick-up location and drive you to the airport in comfort and style. We provide airport transfer services to multiple international airports including Heathrow Airport, Gatwick Airport, Luton Airport and Stansted Airport. For journeys to and from the airport, simply let our team know:
Date and departure/ landing time.
How many passengers and how many pieces of luggage, so that we can find the most suitable minibus or coach for your group.
Pick up locations and your departure or arrival terminal.
Your flight number so we can track if there is a delay and mobile number (for arrivals).
Minibus and coach hire for private trips
You can also contact us for minibus hire and coach hire services for weddings, milestone birthdays and any other important event in your life. When it comes to special private events, we know how important it is for all of your guests to arrive on time and in comfort. By hiring a minibus or coach with us, you don't have to book multiple taxis or plan who will share a taxi with whom.
Why choose MET Coaches for minibus and coach hire services
2019 is going to be a big year for the coach hire industry with new emission laws coming to London. To improve air quality in London, an Ultra Low Emission Zone (ULEZ) will come into effect in central London from 08 April 2019. We always make sure we're ahead of the game, which is why we're one of the few companies that already comply to these laws. At MET Coaches, we believe in providing an excellent service by ensuring our fleet is in top condition.
With a luxury fleet ranging from 16 seats to 72 seats and include special features reclining leather seats and audio-visual entertainment, you know you're travelling with the best.
If you have plans for 2019, give us a call on 01923 247765 to talk to a member of the MET Coaches team. Alternatively, you can get a quick quote on our services by using our contact form.
If you found this interesting, you might also like: