What was 2019 like for MET Coaches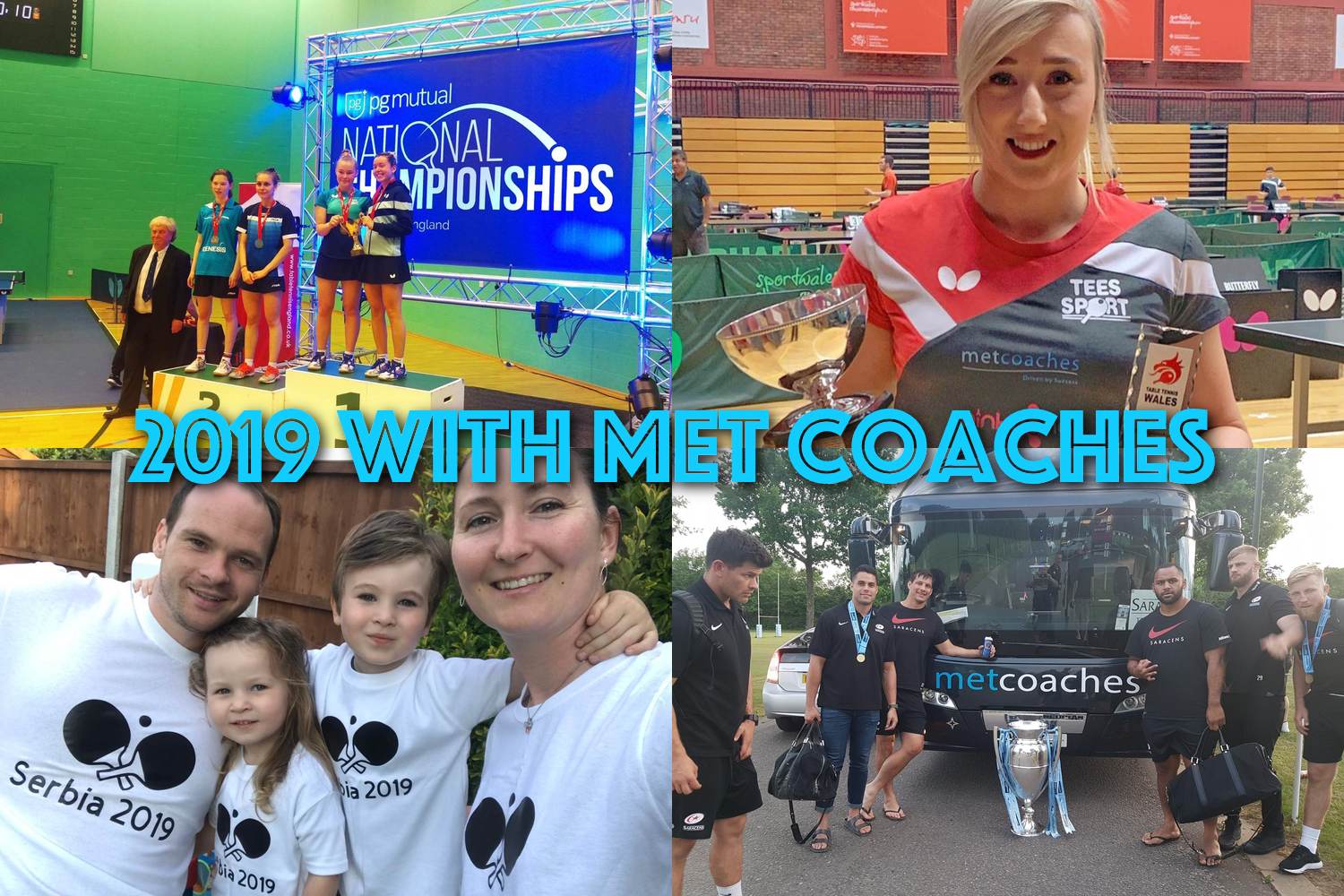 2019 was a year of success and achievement, with many exciting things happening for all our clients, employees and sponsored athletes. We want to share with you our best moments and explain how our services can help you in the New Year.
As Christmas approaches and the New Year looms, we want to take some time to reflect on all the highlights and achievements of 2019. As one of the biggest coach operators in South Herts, we know how important it is to take stock of our successes and plan for new opportunities. Our customers and the local community are at the heart of our company, and we know how important it is to give back. In this post, we share some of our proudest moments and explain what our services can do for you in the New Year. 2020 is certainly shaping up to be another year of accomplishments.
MET Coaches' 2019 highlights
Teaming up with Tottenham Hotspur F.C.
In April, we announced an exciting partnership with popular North London Premier League football team Tottenham Hotspur F.C. We offered executive box holders with a shuttle service throughout the season, and we can honestly say, it was a huge success. With our MD Peter Evans being a huge football fan, it was immensely exciting to be working with such a prestigious sports club. Learn more about the partnership in our post Teaming up with Tottenham Hotspur F.C..
We also provide transport for Saracens and Barnet F.C as well as Hemel Hempstead Town, Wealdstone and Hayes & Yeading United.
If you are looking for a reliable coach hire for your sports team or simply want to get to a match, we can offer our luxury fleet of minibuses and coaches. We are well versed in getting groups to sporting events and can save you from the stress often associated with public transport.
MET Coaches sponsored the World Championship of Ping Pong
This year, we were one of the main sponsors for the 2019 World Championship of Ping Pong. This was the third time that we have sponsored the Championship and, as always, we immensely enjoyed supporting the event and watching the players perform. The event took place at Alexandra Palace in late January, with Andrew Baggaley (ENG) taking the title for the third time. It was a thrilling match, and we are extremely proud to have been part of it.
If you are looking for transport to Alexandra palace or any sporting event in London, look no further than one of our luxury minibuses or coaches. We provide transportation for all types of groups and can get you to the event on time and in style.
Our sponsored athletes continue to shine!
With our Managing Director, Peter Evans, being such a lover of sports, it's only natural that MET Coaches be a sponsor of many young sportspersons and local teams. In addition to the teams we provide with coach transport, we also sponsor table tennis champions Denise Payet, Paul Drinkhall and Charlotte Carey. In March, we were delighted to announce Carey's 8th win in the Women's Doubles and 7th time win in the Mixed Doubles at the Nationals Championships. Most impressively, however, was that Carey was able to regain her Women's Singles title for the 5th time. We are immensely proud of her achievements, and we are sure she will continue to flourish in 2020. Hopefully, we will see her representing Team GB in the 2020 Tokyo Olympics.
Paul Drinkhall also had an excellent year. On 05 May, Drinkhall won the Men's Singles title at the 2019 Serbia Open. Amazingly, this made him the first English table tennis player to ever win two ITTF tour events. In November, Drinkhall led the way home with an 11-9 win over Yoshimura at the ITTF World Cup. Team England then progressed to their second and final match against Austria, where they won 3-0. Thanks to Drinkhall's blistering forehand, the final scoreline was 3-2. Unfortunately, England lost to China 3-0 in the quarterfinals. Despite the outcome, we're all immensely proud of Paul and Team GB, and how well they played. You can read about his achievements in our news post Congratulations Paul Drinkhall.
Denise Payet, our youngest sponsored player, has been making amazing progress over the last six years. In May, Payet won Junior singles and girl's doubles at the PG Mutual Cadet & Junior Nationals. We are incredibly proud of her achievements and are sure she will continue to shine in 2020. Previous achievements also include winning bronze at the 2018 Commonwealth Games in Australia and winning Table Tennis England Nationals in 2015. Keep going Denise!
Our service to you
Coach hire for corporate events and hospitality trips
An excellent corporate venue is essential to a successful business event. A savvy events planner, however, will also consider how guests will get to and from the venue. For this reason, we offer reliable corporate minibus and coach hire that will be sure to make your day a success.
Our luxury fleet ranges from 16-seater minibuses to 70-seater coaches and is perfectly suited to your business needs. Our team will work with you before the event to plan pick-up and drop off points, as well as logistics of the best route. We also offer corporate event planning tips so you can ensure your conference, meeting or hospitality trip is a success
For more information on corporate event planning, read our informative blogs:
Those expecting guests from abroad can impress their guests with our airport transfer services to collect them from the airport. This thoughtful gesture shows that you've considered their transportation needs and may boost your brand image as a result.
Airport transfer services
Our airport transfer services don't just cover corporate events. From family groups to sports teams, we provide everyone with our airport transfer services.
We service multiple airports, including Gatwick Airport, Heathrow Airport, Luton Airport and Stanstead Airport. We work with you to organise pick-up points, and our drivers will do everything in their power to make the journey as swift and as enjoyable as possible. For journeys to and from the airports, simply let our team know:
Date and departure/ landing time.
How many passengers and how many pieces of luggage, so that we can find the most suitable minibus or coach for your group.
Pick up locations and your departure or arrival terminal.
Your flight number so we can track if there is a delay and mobile number (for arrivals).
Minibus and coach hire for special events
MET has years of experience in providing transport for special private events, including weddings, birthdays and other important social gatherings. We understand how stressful and overwhelming it can be to organise With us, you don't have to worry about planning travel routes, parking or fees. We will make sure you get there together, on time and in style.
Why choose MET Coaches for minibus and coach hire services
2019 was a big year for MET Coaches, and we are immensely proud of our services and all the wonderful events we have supported. We believe that great journeys make great days out. That's why we emphasise a fun and social atmosphere onboard all our minibuses and coaches and want all our guests to feel comfortable and well-cared for.
Despite the changes, 2020 is shaping up to be another big year for us, and as always, we put you first. If you have big plans for the coming year and want to get ahead of the game, give us a call on 01923 247765 or fill out our Quick Quote Form.
If you found this useful, take a look at: